International Mars Society Conference Adventure in Dayton!
Marshall Presents Paper at Mars Science Gathering . . .
Although up to this point, many have been unaware of it, Marshall does extensive independent research which he has presented before at conferences and in online articles. This is part of any scientist's work and Marshall enjoys it immensely. In August, 2010, Marshall was accepted to present a paper on his research that has implications for solving psychological issues that have concerned many in the international space community ins as far as long manned missions are concerned.
Marshall's paper, Technocogninetic Methods to Reduce Psychological Threats to Surviving Manned Missions to Mars, was well received with many conferees discussing his concepts and research with him further throughout the three day conference which was held in Dayton, Ohio.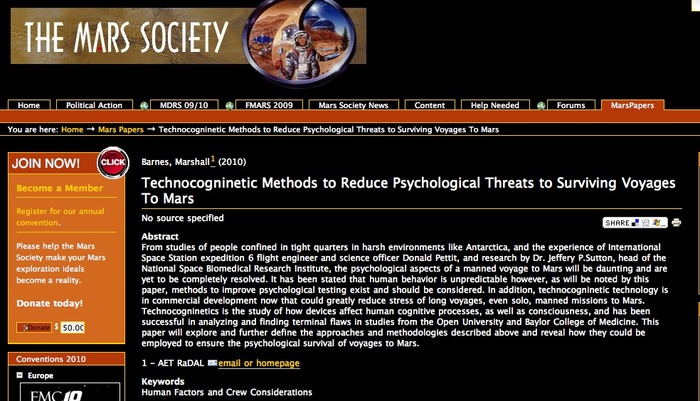 The Abstract as it appears on the Mars Society web site. Click photo to read full size version. Below is Marshall's conference ID badge.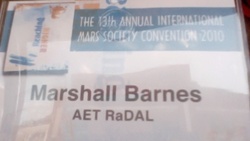 Marshall at the Banquet...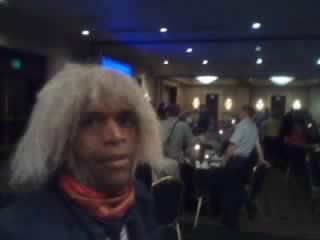 Marshall by the Mars Direct Exhibit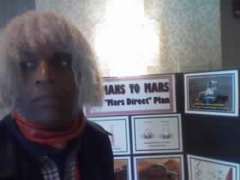 The fact that the Mars Society selected Marshall's paper for presentation is a testament to the kind of research that Marshall does. Also, this is not his first time speaking at a Mars Society Conference. The first was in 2004 in Chicago. He then presented his paper, How To Avoid Hidden Assumption Traps When Thinking Outside the Box. Below is a the beginning of online news article about that. Click on the excerpt and it will take you to the actual full length story which made international news because Marshall's Mars Society debut included revealing mistakes that famous physicists have made, including Stephen Hawking who only months before had admitted his mistake about the information paradox with black holes. This marked the first clash between Marshall and Hawking which persists to this day with Marshall continuously finding mistakes in Hawking's pronouncements while Hawking continues to ignore them and the danger that they pose to his legacy.
The research behind Avoiding Hidden Assumption Traps While Thinking Outside the Box laid the groundwork for what has become the Oppenheimer Strain Project which began with Bexley and then Columbus Africentric High Schools and will become a national project giving students around the country an opportunity to participate and prove that they can see errors that scientists like Hawking have missed because of hidden assumptions.
Marshall Makes News At His First Mars Conference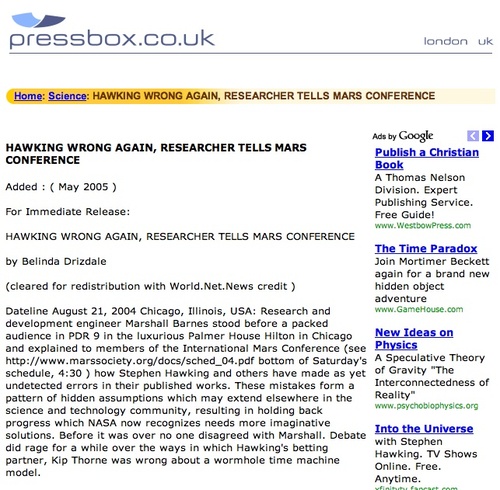 Lead Sponsors: Courtyard Dayton - Dayton University, Leventhal Travel and The ART of Caring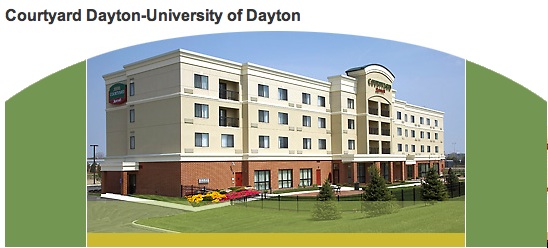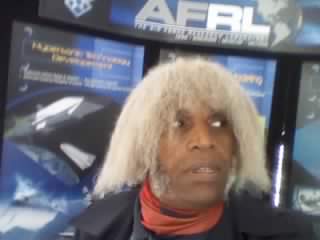 Something catches Marshall's attention in front of the Air Force Research Laboratory booth.
The "Mars Society is an international non-profit organization promoting interest in, education and political action in support of manned missions to, and eventual settlement and colonization of, Mars. It was started in 1998 by Robert Zubrin and a number of his friends and associates and has since attracted a wide range of support, including that of science fiction writers and filmmakers, such as Geoffrey Landis, Kim Stanley Robinson and James Cameron as well as the radio show Coast To Coast AM where Zubrin has appeared numerous times since early 2000. The Mars Society has as its main mission the promoting of the benefits of engagement with Mars to the public and governments. Mars Society members are involved in networking with the industries and communities with various stakes and interests in Mars research and exploration - educational, commercial and scientific, encouraging the possibilities of private efforts to launch Mars missions as well as support roles in providing technology, technical and scientific expertise, and other resources that are sure to be required when any such expeditions are launched.
Formally established in August of 1998, with over 700 delegates attending its first convention,, the Mars Society, has grown to over 4,000 members with some 6,000 associate supporters across more than 50 countries around the world. Society members are from all walks of life, including astronomers, scientists, engineers, astronauts, entrepreneurs, educators, students, space enthusiasts and even sci-fi fans, and for an annual weekend, attend talks and presentations and actively network to promote and support the goals of space science and manned missions to Mars.
If you have an interest in Mars science, colonization or anything else, Marshall encourages you to get involved by contacting the Mars Society through a local chapter or their website, www.marssociety.org.